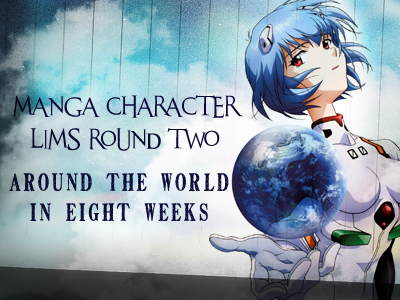 To sign up, comment here in the following form:

Character Your character's full name, in Western format. No nicknames or shortened names please
Series The series they're from. If your character has multiple series, I'll check them out and tell you which I think will apply.
Image An image, so I know what they look like. I'll use this image to make your player badge. If your character has multiple appearances, please include an image for each. EDIT: Since "multiple apperances" has caused some confusion, let me explain: Unless your character has appearances that are terribly different, one picture is fine. :) For example, I don't need two pictures for the Sailor Senshi from Sailor Moon transformed and not-transformed, but I do need two pictures for Sophie from Howl's Moving Castle in her young and old appearances. :)

If you have any additional comments feel free to ask. Please note that the character you choose must be featured in every icon you make for the round so choose accordingly. EDIT: "Around the World" means that each challenge will be a different location around the world, and the theme will correspond to the location. :)

You must keep your identity as whatever character and all icons you make for the LIMS a secret until either the round is over or you are eliminated. All identities will be revealed upon elimination.

There will be eight rounds. You can earn one skip through promotion (please comment with a link to your promo and I will add your skip)

For easy promotion, here's a code:



Entrants:
1.) Chii (Chobits) -- 1 Skip
2.) Tamaki Souh (Ouran High School Host Club) -- 1 Skip
3.) Orihime Inoue (Bleach) -- 1 Skip
4.) Sesshomaru (Inuyasha) -- 1 Skip
5.) Haruhi Suzumiya (The Melancholy of Haruhi Suzumiya)
6.) Howl Jenkins (Howl's Moving Castle)
7.) Usagi Tsukino (Sailor Moon) -- 1 Skip
8.) Sakura Kinomoto (Cardcaptor Sakura) -- skip used challenge 5
9.) Goku Son (Saiyuki) -- skip used challenge 1
10.) Sakura Haruno (Naruto) -- 1 Skip
11.) Jo (Burst Angel) -- 1 Skip
12.) Sebastian Michaelis (Black Butler)
13.) Edward Elric (Fullmetal Alchemist)
14.) Yui Hirasawa (K-ON!) -- 1 Skip
15.) Toshizo Hijikata (Hakuouki) -- skip used challenge 4
16.) Koto (White Waltz) dropped out
17.) Nami (One Piece) -- 1 Skip
18.) Lelouch Lamperouge (Code Geass) --
19.) Ichigo Kurosaki (Bleach)
20.) Kensei Muguruma (Bleach)
21.) Misa Amane (Death Note) -- 1 Skip
22.) Ciel Phantomhive (Black Butler)
23.) Grimmjow Jeagerjaques (Bleach)
24.) Oz Vessalius (Pandora Hearts)
25.) Dante (Devil May Cry) -- 1 Skip
26.) Yuuta Takemoto (Honey and Clover)
27.) Hotaru Tomoe (Sailor Moon) -- 1 Skip
28.) Bianchi (Katekyo Hitman Reborn)
29.) Hikaru Shidou (Magic Knight Rayearth) -- 1 Skip
30.) Tony Tony Chopper (One Piece)
31.) Ai (Princess Ai)
32.) Ayumi Yamada (Honey and Clover)
33.) Portgas D. Ace (One Piece)
34.) Franky (One Piece)
35.) Naruto Uzumaki (Naruto)
36.) Toshiro Hitsugaya (Bleach)
37.) C.C. (Code Geass) -- 1 Skip

Sign-up ends on Friday, September 24th. After that no additional players will be allowed to sign up, and no players will be allowed to change their character!